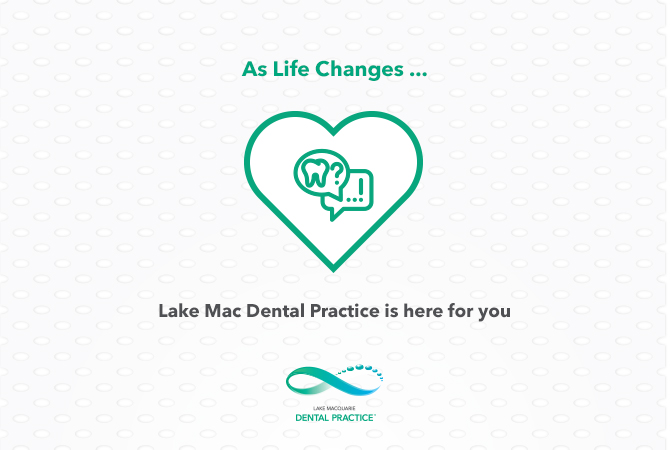 COVID 19  – Moving Forward
Under instruction from the Australian Dental Association we have moved down to Level 1 restrictions. This means we can now treat all healthy patients within the restriction guidelines.
Please be aware there will be a few new things for you when you arrive:
Hand sanitation – on entry of the surgery please sanitise your hands immediately, hand sanitizer is available almost everywhere you turn in the surgery so there's no excuse!
Social Distancing – please wait in your car when you arrive and message us, we will come to collect you from your vehicle or let you know when it is OK to come in. Please do not bring any more than 1 support person with you to your appointment.( If you have made a family booking we will arrange the details with you prior.)
Temperature –  Your temperature will be taken and recorded at every dental visit.
PPR – before any dental procedures commence you will be given a pre-procedural mouthwash to rinse your mouth.
PPE – your Clinician and Dental Nurse will now be wearing face shields and gowns as well as our usual Personal Protective Equipment.
Communication – almost all appointment communication will be via sms, this will help us to let you know specific details for your appointment and what is happening with in the practice. It is an easy way for you to communicate with us on the go.
If you meet any of the below criteria, please DO NOT attend our practice, please call us to discuss your options.
Fever, shortness of breath, cough
Returned from Overseas in the last 14 days
Have been in contact with a known case of Covid-19
Are currently undergoing testing for Covid-19
We appreciate your patience and your support as we move forward and treat you, our patients in the safest way possible.
The LakeMacDentist Team
Contact Lake Macquarie Dental Practice
402 The Esplanade
Warners Bay
NSW 2282
Monday to Friday
8:30AM - 5:30PM
Open late Thursday nights