Dr Eric completed his Dentistry degree BDS at the prestigious Sydney University in 2002. After successfully graduating, he worked in the public system in Bathurst, where he gained excellent hands on experience in a wide variety of dental procedures. He then moved his growing family to the beautiful shores of Newcastle to establish his business in an area he would like to raise his family. After working for a few practices in the region, Dr Eric decided to open his own clinic to provide the kind of dental care he was passionate about, delivering his high standard for all his patients.
Dentist by day and DJ by night, Dr Eric loves to mix party tunes as a DJafter hours! Don't be surprised if you find him supporting his local children's school, Charlestown South Public School at dances including the year 6 farewell. He also puts his DJ skills to good use with the local youth community, sometimes pumping the disco tracks so loud that the police are called for noise pollution!
Dr Eris is also a very dedicated family man and loves spending time with his wife and four children. His wife Rachel is also the Practice Manager of the clinic and the love of his life. They met each other working at McDonalds flipping burgers as young whipper snappers and have been working side by side together ever since. With the few spare hours he has left, he also loves going fishing in the early hours of the morning (sometimes the late nights too)!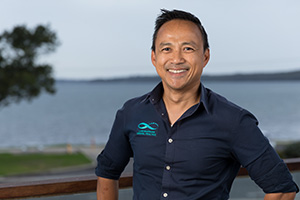 Dr Meg grew up in Newcastle, and originally studied Pharmacy at Newcastle University, but after deciding it was not the best fit for her, she moved to the Gold Coast to study Dentistry at Griffith University. After graduating she relocated back to Newcastle, so she could raise her young family. Meg started working here at Lake Macquarie Dental Practice in December 2017 after working for several years in Nelson Bay. 
Meg always likes to make sure her patients feel comfortable and have a better understanding of their oral health. She strives to give every patient the best possible care with her attention to detail. Meg is currently working part time whilst also looking after her two young children. 
When not at work, Meg is usually at kids' playgrounds, shopping, or walking along the beach.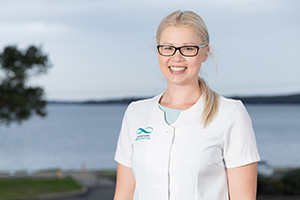 Krystal Stewart
Oral Health Therapist
Hi, my name is Krystal. I have been working at Lake Macquarie Dental Practice since 2012 in which I began as a dental assistant. Being a dental assistant at LMDP inspired me to expand my skills and knowledge and begin a Bachelor of Oral Health Therapy degree at the University of Newcastle. During my studies I continued working as a dental assistant and the practice administrator in which I gained valuable experience. I graduated as an Oral Health Therapist in 2018 with a dual qualification as a Dental Therapist and Dental Hygienist and am privileged to have the opportunity to continue to work as an Oral Health Therapist within the same practice I began my journey in the Dental industry.
I have a passion for working with young children, adolescents and adults and enjoy providing a variety of dental procedures including oral health promotion, preventative and restorative dental treatment. I strive to make everyone's dental visits carefree and pleasant. In my spare time I enjoy travelling with my fiancé and spending time with my family and dogs.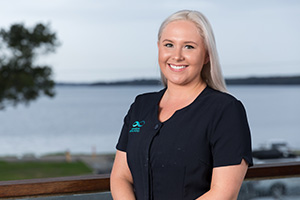 Rachel Asis
Practice Manager
Rachel is the 'driving force' in the Asis family, a domestic engineer, a multi tasker, one of the hardest working mothers and business woman you will ever meet and Practice Manager at Lake Macquarie Dental Practice.
After spending 10 years of raising four beautiful babies as a devoted full time mum, Rachel hopped on board the Lake Macquarie Dental Practice team and brought her finance and organizational skills to the clinic. As a family run business, Rachel is an incredible support to her husband in the Practice Manager role and has embraced Eric's ethos of treating patients like their own family.
Rachel loves whipping up delicious dishes in the kitchen and is also one crafty mama, just call her the Martha Stewart of Newcastle… She also has a green thumb and likes to get her hands dirty in the garden. Spending time with her kids and her 'awesome' hubby is Rachel's most cherished past time.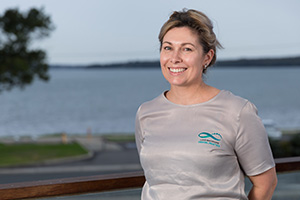 Rebecca Hesketh
Oral Health Therapist
Hi, my name is Rebecca. I started working as a Dental Assistant at Lake Macquarie Dental Practice in 2011. Over time I developed my interest for everything dental and soon discovered my passion for patient care and Dentistry. I am currently studying a bachelor of Oral Health Therapy, with a goal to graduate as an Oral Health Therapist and to continue my education in Dentistry. The most satisfying thing about working at Lake Macquarie Dental Practice is knowing that patients receive a high standard of dental care to suit their individual needs.
In my spare time I like to learn new things, relax and keeping myself fit and healthy. I believe that all aspects of our health is so important and everyone should have access to high quality dental care.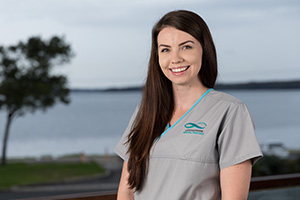 Arabella Ward
Certified Dental Assistant
Hi, my name is Arabella! I started working with the LMDP Team in June of 2017 whilst completing my Certificate III in Dental Assisting through Hunter Tafe. I am thankful to be given the opportunity to work with such a great team who have inspired me to take my education further in the dental industry! When I am not at work you will find me on the back of my horse competing in Endurance Horse Riding or spending time with friends soaking up the sun!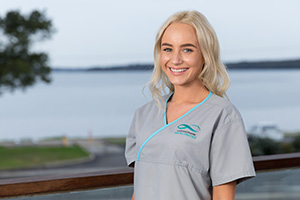 Kaylee Arthur
Certified 

Dental Assistant
Hi, my name is Kaylee, I've been a dental assistant for 3 years. In 2015 I decided I wanted a career change, a total industry chance in fact. In 2016 I started out at LMDP with Eric, Rachel and the fabulous team training me up to gain my certificate 3. Soon after I ventured off for roughly 2 years. Now I'm back with LMDP and couldn't be happier, our patients truly get the best care by a passionate team that thrive off each other. In my spare time you might see me at a local food market or walking by the lake with friends and fury friends in tow.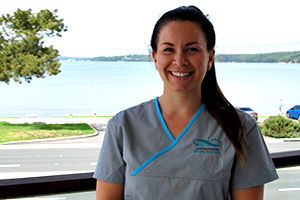 Contact Lake Macquarie Dental Practice
402 The Esplanade
Warners Bay
NSW 2282
Monday to Friday
8:30AM - 5:30PM
Open late Thursday nights